History of "Laffaw Acres" – our family place
By Joan Laffaw Storkman
June, 2021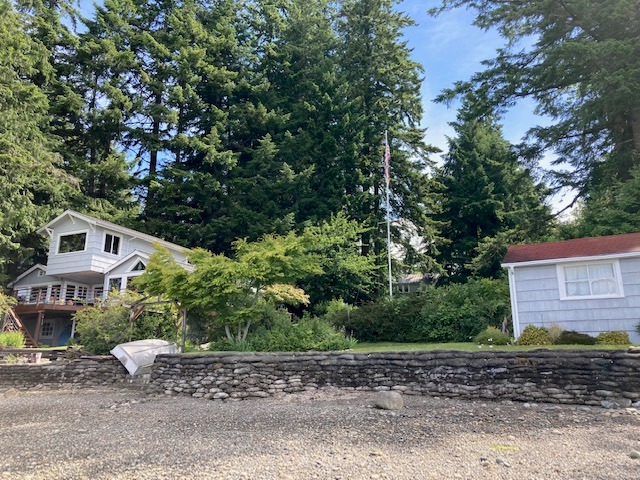 My husband, Jaime Storkman and I have lived as caretakers of my family's property since 1974—a year after we were married here on the lawn that sweeps down to Burley Lagoon. But the history of this place goes back much farther.

Native legend says the area was a beautiful green Eden lying beside a quiet bay. Neighbors, Ernie and Audrey Christiansen found many arrow heads on the beaches in the 1940's reflecting the rich hunting and fishing grounds Native Americans found here.

Our family's place was purchased in the 1930's by the first white man to live here, Roy E. Davison. He was a Tacoma businessman who bought and built the main home for his family and professionally landscaped the almost 2 acre parcel. But when his family wasn't interested in coming due to its isolation, he decided to sell.

In 1947, my grandparents, Homer (b. 1893) and Rhoda (b.1899) Laffaw were looking for a home as Homer had just gotten a job as sawyer at Austin Estuary mill. They'd heard that this property was for sale and came for a tour. Homer said, "It's a beautiful place but we could never afford it." Mr. Davison replied, "I want this home to go to a family who will enjoy and care for it as I have so I'll sell it for a price you can afford." They bought it for $13,700. They kept in touch with Mr. Davison until his death, always grateful for the gift of this place.

Mr. Davison had a Native American grounds keeper, Harry Hazelwood, who lived in a little cabin on the water. Harry remained when Homer and Rhoda purchased the property. When Harry left, Homer enlarged the cabin for family and friends to stay.

When the mill closed in about 1950, Homer was out of a job so both he and his younger son, Larry, worked on the oyster beds for a while. Homer then got a job as Custodian at Peninsula High School where he worked until his death in 1960.

After Homer's death, Rhoda worked hard to keep up the place by herself, coming home from work at the Bremerton Ship Yard, eating a hardboiled egg, and going out to paint shingles or work in the gardens. Rhoda joyfully welcomed family and friends that dropped by with a delicious meal—or a martini which she enjoyed nightly.

Homer had begun building a "cottage" on the water prior to his death. The family finished this cottage, which is where Jaime and I have lived since our 1974 arrival. We then made 2 additions with the birth our 2 kids in the 1980's. Our kids toddled up to Great Grandma Rhoda's house every day for visits—and a spritz cookie.

In the 1950's, neighbors and friends Vic and Irene Ouelette arranged for Rhoda to buy the tidelands in front of our place. At that time an error was found from the 1800's survey which caused the meander line for the beach property to be 100' upland from the bulkhead. The family consulted an attorney who found that all the property lines nearby were also incorrect. The attorney recommended that rather than pursuing legal action to instead keep up the fence lines assuring "adverse possession" should property lines ever be challenged in court.

Our family has always believed that it is our responsibility to preserve Burley Lagoon's environment. Family members testified at a 1960's hearing in support of Jerry Yamashita's oyster seeding project, as we felt his practices assured the health of the Lagoon. When the project was approved, Jerry and his wife hosted a clam and oyster feast at PHS, which they'd prepared themselves, for everyone on Burley Lagoon. Our family also has been vocal about unsound environmental practices used to farm geoducks and plastics poles and predator netting used for clam and oyster production. We supported Pierce and Kitsap septic tank testing in the 1970's which cleaned-up pollution in Burley Lagoon.

Our family has been able to keep this place thanks to the wisdom, generosity and efforts of my dad, Jack and his brother, Larry. Just before Rhoda's death in 1992, they advised their mom to divide the property into 3 parcels in her Will: Jack's property, Larry's property, and family property. Since then, both Jack and Larry have gifted their properties to their children.

In 2012, the family drew up the "Laffaw Acres Family Agreement." In discussions leading up to this Agreement, the question arose: "How can we buy out a family member who no longer wanted to or could afford to be a part of the property?" My nephew replied, "This property was a gift. No one should profit from a gift." So with that, it was decided that anyone could opt out, still enjoy the property and not pay into improvements/taxes/etc. But at the time of possible sale, they could only receive their portion of profits if they paid all their portion of back expenses.

Today the family continues to enjoy the place for fun times with family and friends—including 5 family weddings here. Family "Work Parties" are held twice a year to keep up the place. Rules and expectations are written down and everyone is great about vacuuming, changing beds, etc. after using the place. And now the 5th generation is enjoying "Laffaw Acres!"

It is the family's hope to hold onto this place as long as it brings our family together positively. We recall my Grandma Rhoda's words, "If this place ever becomes a burden or causes family disagreements, then it's time to sell it." In the meantime, we'll sail, paddle, or swim in the waters of Burley Lagoon and do our best to keep up this amazing pristine environment which Native Americans and Mr. Davison entrusted to us.